---
---
Based on our discussion with SBC Design over the weekend, the renovation for our flat will be starting tomorrow.  Yeap.  The hacking of the tiles & removal of the built-in wardrobes should start tomorrow.  Iceman and I went to the flat to take some photos of it… just to remember how it looked when we first bought it.  I must say the photos make the flat look a lot better than the state it's in – the sellers didn't take much care moving out – the laminate flooring is damaged quite badly, etc.
Anyway, this is just for the memory…
The main door.  We're retaining this.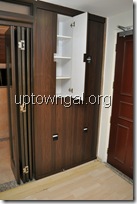 Shoe cabinet behind the main door.
The balcony (I like the wind chime the seller left behind!)
The living/dining room taken from opposite ends.
The kitchen (we're not going to have the  L-sink anymore).
Kitchen toilet
Master bedroom & toilet (damn ugly).
2nd bedroom (taken from opposite ends).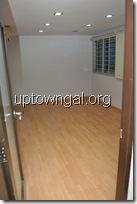 3rd bedroom
And that's it!  Will post photos from the reno as we go along.  😀