---
---
This is what I call a parking idiot, as well as a cruel dog owner.
Not only can she/he not park straight, she/he always crosses over to the lot on the left, making it impossible for anyone to utilise the lot.  I wonder if our kind traffic wardens will issue a summon for this?  After all, if you're only paying for 1 season parking coupon, how can you occupy more than 1 lot?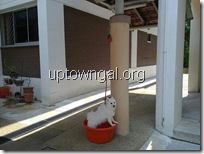 This person is not only a parking idiot, she/he is very cruel too.  Poor dog was left outside for hours (dog was already tied to the pillar in our sweltering weather when I walked past on the way out for lunch, and when I came back after 1.5 hours, the poor dog was still there with no water).  I intend to write a complaint to SPCA but I forgot to take note of the unit number of the flat.  Will do so the next time I pass by the flat, and I might just share the address with everyone.