---
---
Kiki's Restaurant – serves Sichuan dishes.  Opened by Matilda Tao & some other celebrities.
Kangkong with fermented beancurd.  Reaaaaallly good.
Mala beef – this is a must try!  The medium spicy mala soup leaves a tingly feeling on the tongue.  The beef was tender & absorbed the flavour of the mala.  Soooooooooooooooooo good!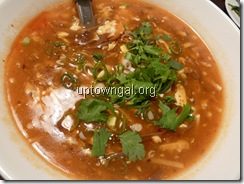 Sour & Spicy soup – didn't really like it.  Felt that the flavours were a little muted.  The tiny strips of duck's blood in it were… tasteless to me.  Haha.
"3 layer" pork w/ garlic + vinegar dip.  Pretty good.  The garlic adds a zest to the meat.
Obese ikan bilis (aka anchovies).  This would go great with beer!
My TPE clique and me at our company D&D.  Yay.  Finally a photo with my long long hair & curls.  Didn't want to cut my hair b4 I took a photo.  Wahahahahaha.