---
---
Jiufen's an old mining town with lots of shops selling local specialties & tea houses.
To get to Jiufen, we took the MRT to Taipei Main Station, then changed to an express train to Ruifang.
Here's a pic of the train station at Ruifang.
You can get lots of snacks at Jiufen.
As well as shops selling curios!
This looked so yummy while it was steamed…
It turned out to be not so yummy vegetarian I don't know what you call it.  Thankfully, we only ordered 1 bowl!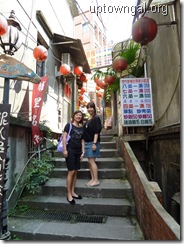 Climbing stairs is a must.
A really old movie billboard & a 100-year old wheel.
A teahouse
Lemon w/ kumquat & lime and tea jelly
There's this really good "zi char" place called Chang Wang near Wufenpu.  Food was CHEAP & good!
Kangkong cost only SGD3.60 (and it was good!)
The beancurd wasn't too bad either.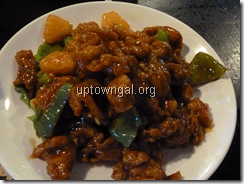 Sweet & sour pork was normal tasting but cheap.  Costs around SGD5.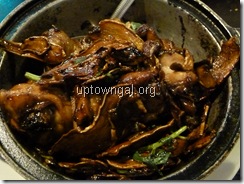 This "3-Cup chicken" was the best of the best!  *Slurp*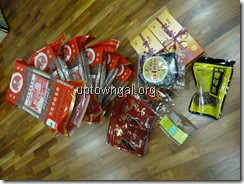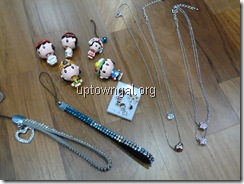 My shopping in Taipei!  😀