---
---
People often say it's difficult to take photos of pets and recently, I have to agree!  Horlicks and Pinky have been so hyper lately it's hard to take photos of them.  They love to stick their noses in my camera lens so it's damn difficult to get a clear shot of them.  Here're some pics I took last night with my N8.  (Sometimes I wonder if they're attracted by the hp charm I hung on my phone… maybe I should try taking photos with the charm next time).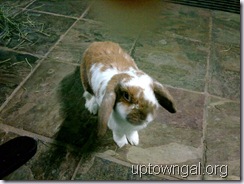 Pinky attempting to charge into the house the minute I opened the sliding door.  Sorry for the blur spot on top – that's my finger.  Was attempting to stop Pinky from rushing in and take the pic at the same time.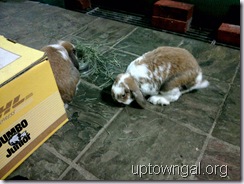 Pinky (right) & Horlicks (left) eat hay.
Horlicks – yanked all the hay out of the bowl.
Oops.. realised she was caught in the act.
A bit difficult to get a pic of Coffee 'cos he's all black!  And it's not that bright at the sideyard.
Coffee, docile from being patted.
Pinky, just finished doing his business in his home.  Haha.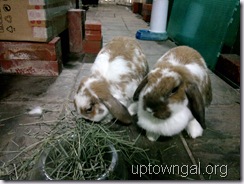 Pinky (left & Horlicks (right).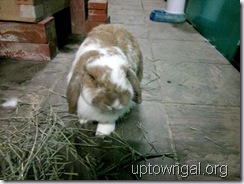 Pinky, a little blinded by the N8's focus light.  Sorry Pinky!
Pinky, eating.  Nothing new.
Finishing up their supper.
There.  Food's almost all gone!!